Join the Board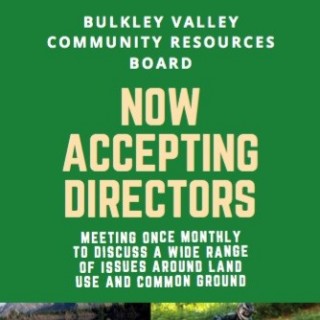 Each year, the BVCRB accepts nominations for new board members to serve a three-year term.
The BVCRB is currently seeking nominations for Board members. If you would like to nominate someone for a position on the BVCRB simply email us at: info@bvcrb.ca. Or please download our Nomination Form.
Members are selected by a selection committee made up of past board members. The goal is to have the board represent the full range of value perspectives listed in the BVCRB Terms of Reference.
For more information on the new member selection process, please contact us.
Why Join The Board?
If you would like to participate and have meaningful input into local land-use decisions, consider applying to become a Bulkley Valley Community Resources Board (BVCRB) member.
What Does The Board Do?
The BVCRB was first established in 1991 to complete the Bulkley Land and Resource Management Plan (LRMP), widely regarded as one of British Columbia's most successful land-use plans. Today, the Board continues to play an important role by advising government on resource management, monitoring resource management plans on crown lands, acting as the vehicle for public input on issues arising from the Land and Resource Management Plan, and reviewing any proposed changes to the Plan.
What Are Some Current Issues Being Considered By The Board
Wildlife Habitat Management Area (WHMA) land act designations
Winter Recreation Access Management: Recreational amenities are a significant contributor to local lifestyles and the economy. The BVCRB is actively encouraging the completion of a Winter Recreation Access Management Plan, a key to maintaining good relations between those who use the backcountry for recreation.
BCTS Operating Plans
Forestry and Carbon in BC
Reiseter Special Management Zone, VQO complaints, log hauling traffic, Opportunities to be Heard
Management of Resources in the Face of LNG Pipeline Expansion: How will pipeline corridors affect wildlife habitat, water quality, and other resources.
Telkwa Coal
Wildfire Risk Reduction Plans
Ecosystem Networks
Recreation Access
Who Is On The Board?
The BVCRB is comprised of 12 volunteers representing the full range of value perspectives in the community. Board members typically serve 1 or more 3 year terms, and this rotation means there are several openings on the board each year.